Midyear Purchasing Season of Hongsun metal materials !
Exclusive news, exclusive news,
From June 5th to July 5th,
The Midyear Purchasing Season is coming,
That is truly your opportunity so, catch it, grab it, and take it,
Hongsun metal materials will give you much more surprise as below:
You can get more best selling models with lower expenses, we added up some models of products which are sold best last 6 months and now we put forward the promotion below:
No matter what to buy,
8k Mirror Gold, Etched, Gold Rose ,
Hairline black and original color,
antique copper and bronze,
Gold Mosaic Satin No. 4 series,
All of them,
Now,
Samples? Free!
Samples delivery? Free!
Installation plan designs, free!
And you can get more bonus like:
Just your contract value≥$3000, you can get a 10 dollar coupon each time of reaching $2000;
Once your contract values are≥$10000, 2% of contract values off immediately;
Or your contract values are≥$50000, 3% of contract values decreased right away;
If your contract values are≥$100000, 4% of contract values deducted at once;
And if your contract values are≥$200000, 5% of contract values down in no time;
For our new partners and new customers, you can get even more gifts,
So, act now.
The months of Honsun Metal Materials is coming!
Good day for everyone, here we come to March Expo Festival on Alibaba. In the March,
not only our company will provide much more discount for our customers, but also
Alibaba.com give pretty benefit.

There is the benefit from Alibaba. Com:
Make a purchase during the March Expo to enjoy these benefits:
Free Order Inspection:
Buyers who make a Trade Assurance order with certain suppliers who support free
inspection for more than US $3,000 and make an initial payment of US $1,000 during
the promotion period will enjoy FREE INSPECTION from CCIC, valued at $150 US.
15% off Ocean Shipping (LCL):
Alibaba.com has launched a sea freight shipping service for orders from certain
Chinese ports to over 30,000 US zip codes. If your order is less than a container load
(LCL), you can take advantage of Alibaba's own logistics service.
Low Transaction fees:
US registered members of Alibaba.com can enjoy a new T/T transaction service
starting with March Expo. This service allows buyers making Trade Assurance orders
to make payments into a US bank account, speeding up processing time and
reducing fees.
And here is our discount (Hongsun) below:
During the March Purchase Festival, we (Beijing Hongsun) offer you the following promotions:
①During the March Procurement Festival, new customers can enjoy a gift
②During the March Procurement Section, $1000 ≤ order amount <$5000, enjoy 3,000 minus 80 discount coupons

③During the March Purchase Festival, $5000 ≤ order amount <$10000, you can enjoy 2% off

④During the March Purchase Festival, $10000 ≤ total amount <$50000, enjoy 3% off

⑤During the March Purchase Festival, $50000 ≤ order amount <$100000, you can enjoy 4% off

⑥During the March Procurement Day, order amount ≥$100000, you can enjoy 5% off,
free standard samples available for 4-8 months and appropriate technical support
Missed March, discounts will be cancelled uniformly, and could not serve in time
because of the saturation of material prices and order quantities.
Note: During the March Procurement Festival, customers who place more than
$100,000 will be entitled to a free single-passenger ticket and will Participate in 2018
Shanghai May Elevator Exhibition and three Days Five-star hotel accommodation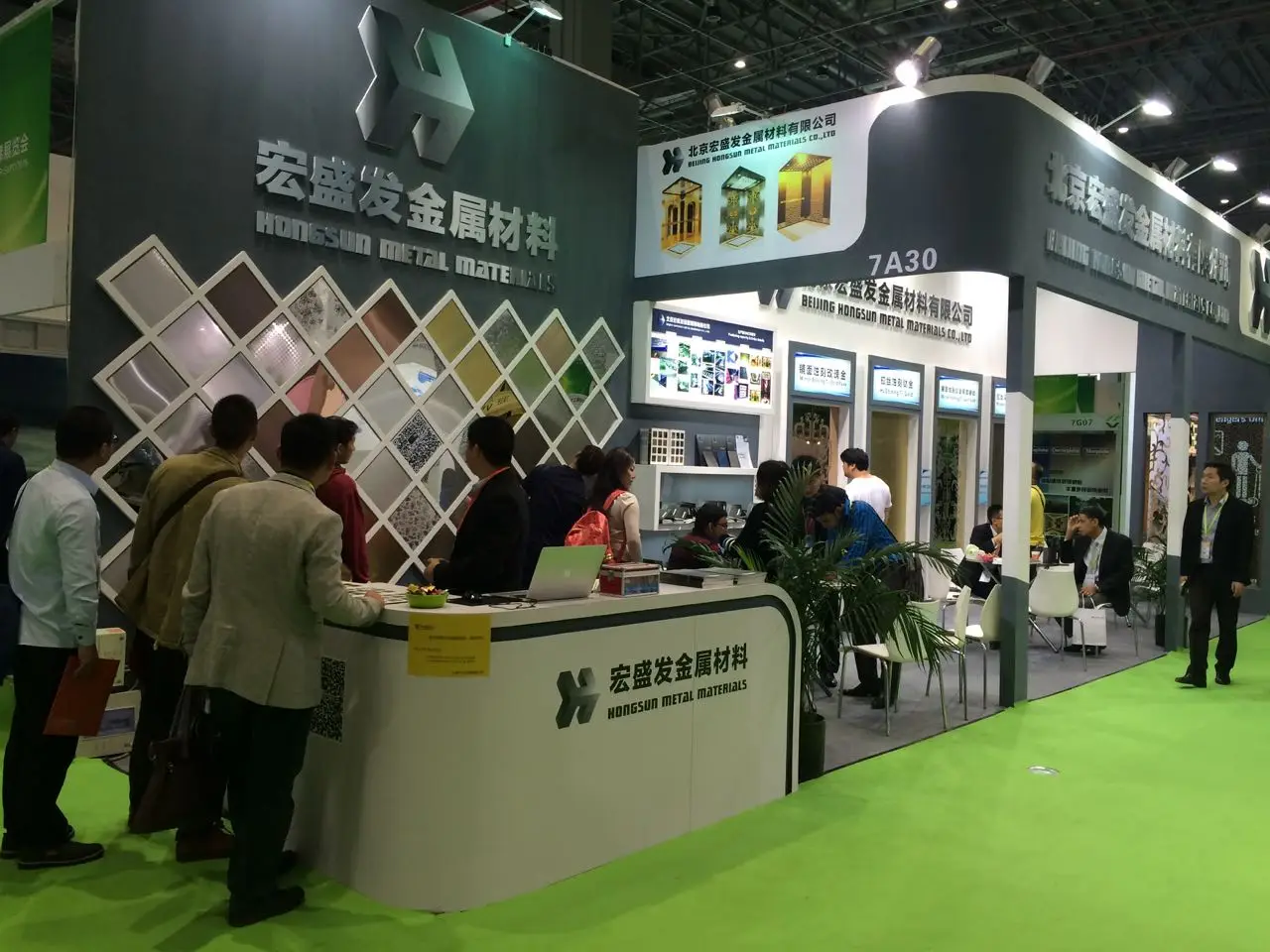 Look the pictures, it was the day we (Beijing Hongsun Metal Materials Co., Ltd.) joined
the 2016 Shanghai Elevator Exhibition.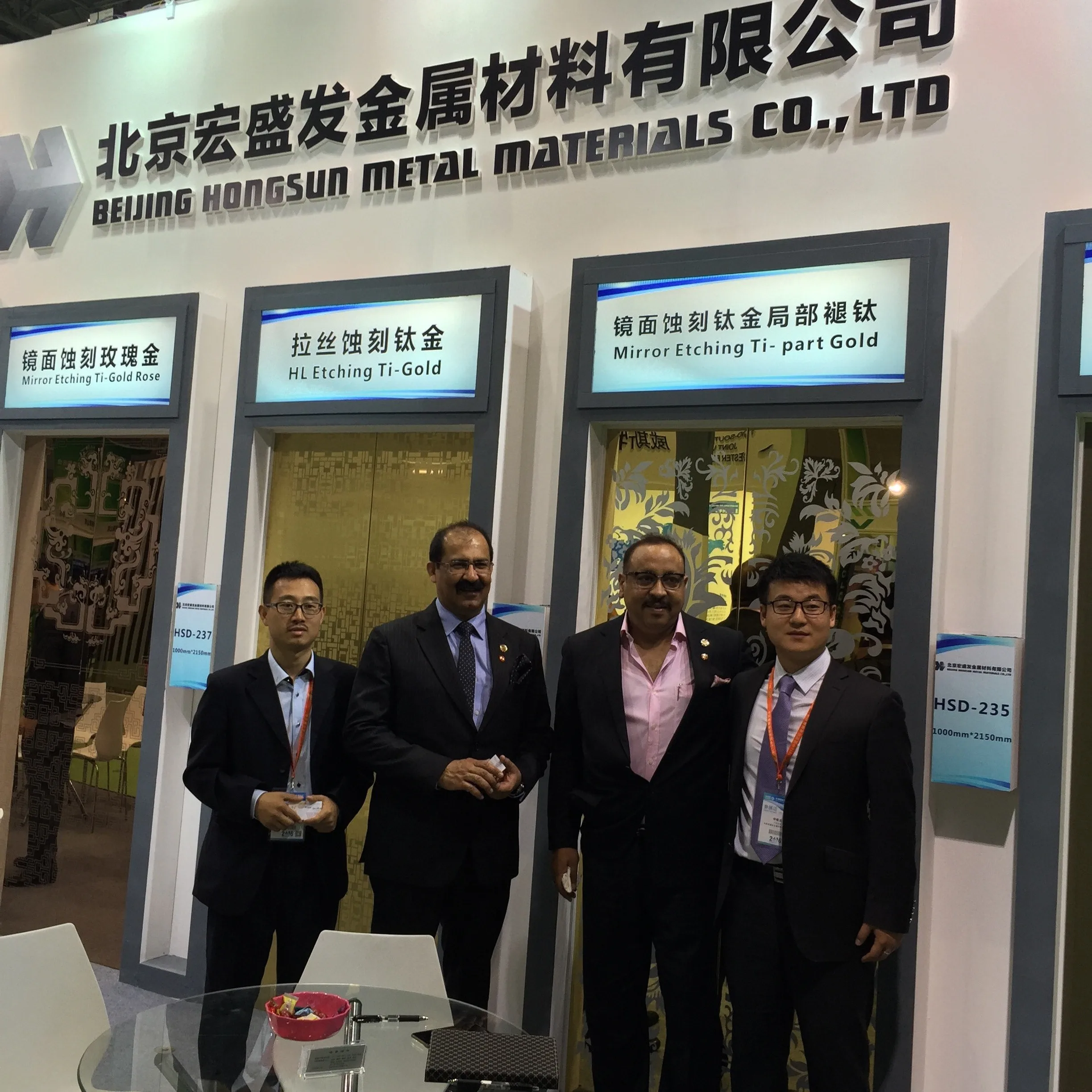 Beijing Hongsun Metal Materials Co., Ltd---We are the professional supplier of metal
decoration solutions. Meanwhile we supply various types of Decorative stainless steel
sheets , such as mirror , hairline, etched, coated, embossed, antique and #4 finish
etc. Also we supply circles and pipes. Our products are mainly exported to US,
Australia, Mexico, Germany, France, Italy and UK etc.
Review the way we have experienced, the business of Beijing Hongsun has already
maturing. We are the one of the only 13 KA Suppliers on Alibaba in Beijing now.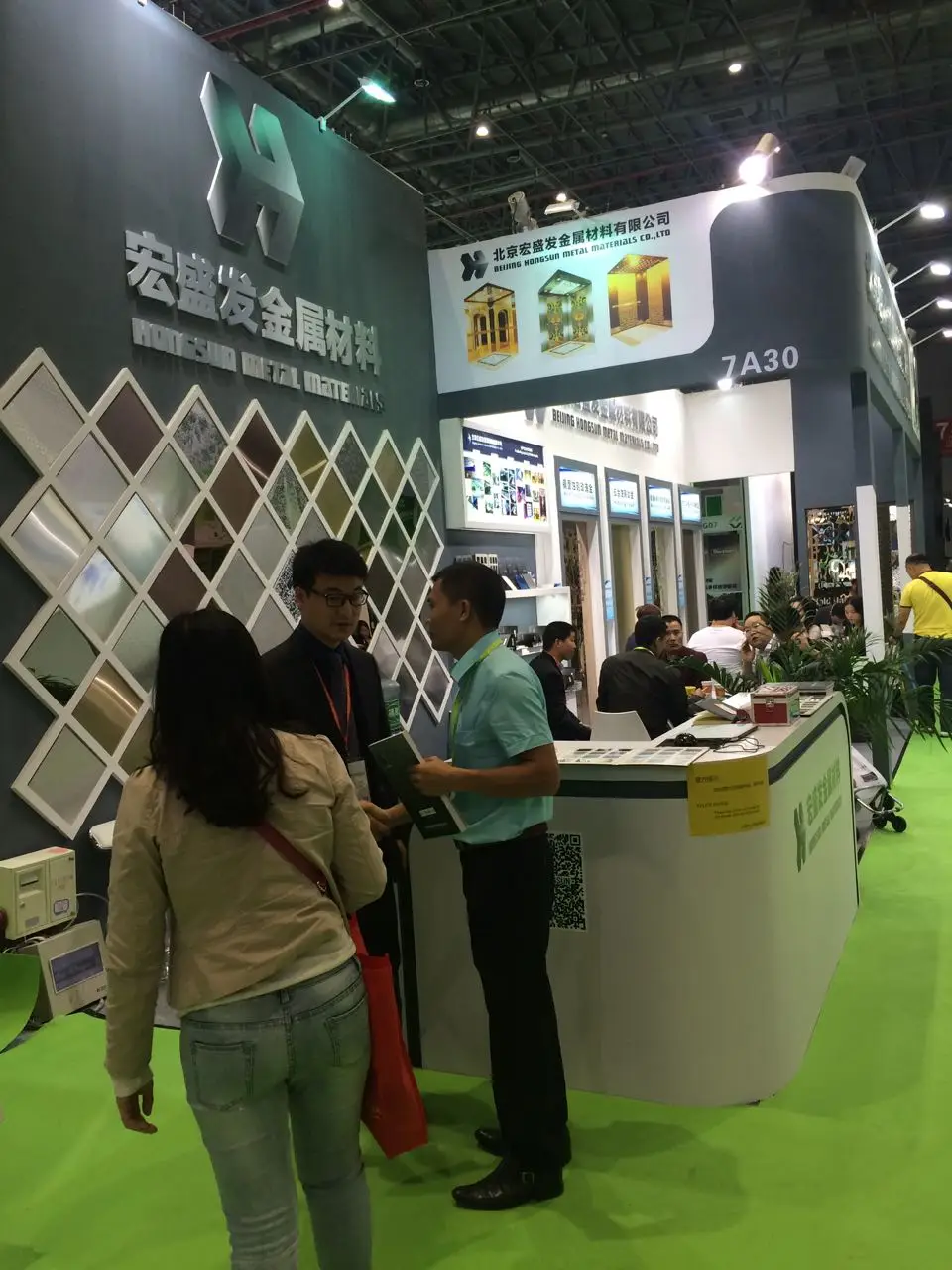 Welcome to our booth in 2018 Shanghai May Elevator Exhibition, we look forward
to for your visit!
Here is the information of our Exhibition:
2018 China International Elevator Exhibition
Our booth information:
TIME: May 8th—May 11th, 2018
LOCATION: No. 333 Shanghai Songze Avenue,
National Convention Center (Shanghai)
HONGSUN Booth Number: 5503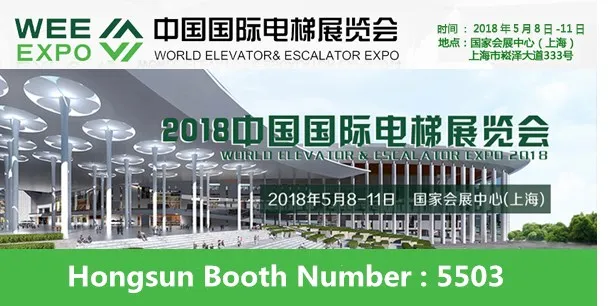 Take action now, give you a luxury decoration beauty with metallic stainless steel
I'm waiting for you here!
BEIJING HONGSUN METAL MATERIALS CO., LTD.
Add: D902 Hongkun Yunshidai, Yizhuang zone, Beijing, China 100176
Tel: 0086-10-85863731 Fax: 0086-10-85863731
Cell:0086-15210360252
Email: stevin_shen@hongsunss.com

Web: www.hongsunss.com ;
hongsunss.en.alibaba.com
artinox-hongsun.com